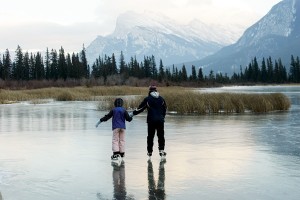 According to a new media release, the Federal Conservatives would have us believe that radical billionaire socialists and foreign special interest groups are trying to prevent Canada from any and all energy production projects.
My favourite part of the loopy missive is when Natural Resource Minister, Joe Oliver, decries that "under our current system, building a temporary ice arena on a frozen pond in Banff required the approval of the federal government. This delayed a decision by two months…"
Uh, Minister, you do realize that Banff is a National Park, right? And that any such activity in a National Park requires Federal approval under the National Parks Act, right? Which takes, what? About 2 months?
Be careful using that argument though, kids. The response would likely be a scrapping of the National Parks Act.
A better question? What does building a temporary ice rink in Banff have to do with energy production? It boggles the mind.
Of course, that is just the looniest of the looniness. Instead of using a smokescreen to cover their oil sands desperation, they decided to use silly string.
I love the smell of hyperbole in the morning.