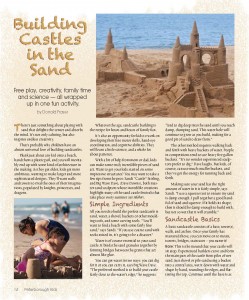 I'm currently working on a book project, Outdoor Kids: Adventures in Nature, that features chapters on all kinds of family activities.  Much of what I'm writing about stems from my regular contribution to the Kidz Ink series of magazines.  My chapters on snowshoeing, mountain biking, winter camping, letterboxing, backyard science, downhill skiing, children's gardening (plus others) started out as magazine articles for Peterborough Kids, Northumberland Kids, and Lakeridge Kids.  Future chapters will include canoeing, backpacking, backcountry camping, and a host of other fun topics.
Here's a strange but fun one to throw into the mix:  Sandcastle building.
Click on the article or visit the Peterborough Kids, Northumberland Kids, or Lakeridge Kids websites to read the entire thing.
A teaser from the article:
There's just something about playing with sand that delights the senses, and absorbs the mind. It's not only calming, but also inspires endless creativity.
That's probably why children have an almost universal love of building sandcastles.
Plunk just about any kid onto a beach, hand them a plastic pail, and you will inevitably end up with some kind of architecture in the making. As they get older, kids get more ambitious, wanting to make larger and more sophisticated designs. They'll want walls and towers to rival the ones of their imaginations, populated by knights, princesses, and dragons.
Whatever the age, sandcastle building is the recipe for hours and hours of family fun.
You may not want to tell your kids this, but it is also a great opportunity for them to work on their fine motor skills, hand-eye coordination, and cognitive abilities. Chances are good that you'll also have given them an opportunity for social development – because, really, nothing attracts other kids quite like a sandcastle in the making.
With a bit of help from mom or dad, kids can make some truly incredible pieces of sand art. They can also learn a little science, a bit of history, and a whole lot about patience. With your encouragement, they'll show the drive needed to complete bigger and more complex projects.
Want to get your kids started on some impressive structures? You may want to take  a few tips from the pros: Sandi Stirling, and Big Wave Dave, both master sand sculptors whose incredible creations highlight many of the sand castle festivals that take place every summer.