#petertweeter Awards Seek Nomination Working Group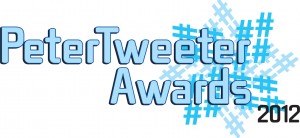 The #petertweeter Awards Planning Committee is looking for a few social media-active volunteers to help with the nomination process for the 2013 awards show.
For coverage of the 2012 #petertweeters, please check out some of the media coverage.
In order to ensure that the #petertweeters are inclusive as possible, the committee is in the process of creating a working group dedicated solely to category nomination.  The group will come up with innovative ways to harvest nominations, and then to narrow these nominations into both long and short-lists, eventually coming up with a manageable list for people to vote for online.
The Committee is looking for representation from a wide area of interest and social media experience, including: the business, non-profit, education, media, and health sectors.  They hope to include members with knowledge of local food, sports, etc.  Plus a few community "at large" members.
The Committee hopes that the working group will be made up of seven volunteers.  Because it would be difficult to include representation from all sectors and interests, it is hoped that some committee members will have experience in several fields.
Please note: Nomination Working Group members will still be eligible to for #petertweeter Award nominations.  Conflict of interest mechanisms will be put in place to ensure that the nomination process is fair, inclusive, and democratic.
Interested individuals should contact #petertweeter Committee Chair, Donald Fraser via email,  donald(at)smallprint(dot)ca.  This very brief email should detail why you are interested and what skills/experience you would bring to the committee.
The deadline for application is Monday, October 8th.